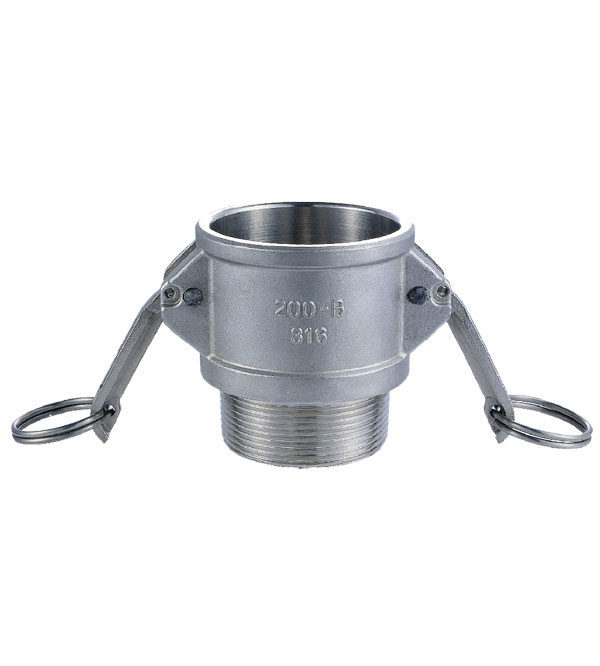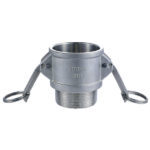 Stainless Steel Camlock Fitting Type B
Description
Casting method:forged(SS precision investment casting and CNC precisely machined)
OEM service: available on request
Body material:stainless steel Other material are available on request
Handle material: stainless steel CF8M casting
Pins.Rings and Safety clips of our SS camlock: We use steel plated Pins,Rings and Safety clips.
(Note: If client don't need Safety clips, and the qty is large, then we can decrease the cost safety clips)
Thread: BSP/BSPT/NPT
Standard: MIL-C-27487 / DIN2828/A – A-59326/API /ANSI /BS/DIN/JIS
Application: oil, mining, agriculture, food, chemistry, and fire protection industries.
Size:1/2'' to 6''
Type: A,B,C,D,E,F,DC,DP
Sealings of our acoples rapidos kamlock en acero inxidable: NBR EPDM Viton PTFE envelop gasket ,SILICONE.VITON Other materials are available on request.
Test pressure:3/4″-2″    250PSI(17.6bar)
3″-4″     200PSI(14.8bar)
2 1/2″    225PSI(15.8bar)
6″       150PSI(10.5bar)
Adaptive temperature: -20°C~232°C
Specially material: SUS201、202、301、302、303、304、304L、316、316L、321、310S、430 etc.
Structure: Metal Bellows
Material introduce: 316 by adding Mo, so the corrosion resistance, resistance to atmospheric corrosion and high temperature strength in particular, and can be used under conditions in Keku; hardening excellent (non-magnetic).
304 18Cr-8Ni as a wide range of uses of steel, has a good corrosion resistance, heat resistance, low temperature strength and mechanical properties; stamping, bending and good thermal processing, non-hardening heat treatment (non-magnetic, then with warm Chong -196 ℃ ~ 800 ℃).
competitive advantages:
Easy to connect and disconn
Experienced R&D teams
international approvals
product features
product performance
prompt delivery
accept small order
Our main products: all kinds of Camlock Fitting. Accessories, 316 Stainless Steel Cam & Groove Couplings, Aluminium Cam & Groove Quick Couplings, Aluminum Guillemin Coupling, Bauer Type Coupling, Brass Cam & Groove Quick Couplings, Brass Tankwagon Coupling, Guillemin Coupling, Hose Clamps, Nylon Cam & Groove Quick Couplings, Polypropylene Cam & Groove Quick Couplings, Reduced Coupling, Safety Clamp, Stainless Steel Guillemin Coupling, Stainless Steel Tankwagon Coupling, Standard Cam & Groove Coupling, Tankwagon Coupling Din28450, Trank Truck Coupling
For detail information please directly contact us